Norbert Trompisch met the female dolphin Olin in 1997 at the Sinai in Egypt. Olin was a wild bottlenose dolphin that had been habituated to humans by a Bedouin fisherman and lived in the bay of Nuweiba for over 10 years. The encounter with Olin was a touching experience for Norbert Trompisch that would shape his life and career to this day.
In 2000, Norbert Trompisch founded the Dolphinswim Institute and presented an independent dolphin therapy concept called Alpha Therapy. This concept focused on the independent interventions of the dolphin, an approach for which alpha therapy still stands today. Norbert Trompisch's therapeutic work with dolphins took him from Egypt to Israel, then to the Crimea in 2004-2009. Since then, Norbert Trompisch and his institute have been offering dolphin therapy at the two locations Antalya/Turkey and since 2017 also in Constanza in Romania.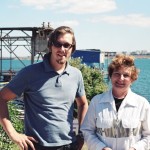 The development of the dolphin therapy "Alpha Therapy" was accompanied by the exchange of internationally recognised experts from dolphin research and dolphin therapy. Dr. Christel Manske (Institute for the Development of Functional Brain Systems in Hamburg) contributed her perspective and progressive methods in the support of people with disabilities. The meeting with Dr. Horace Dobbs (see photo above left), dolphin researcher and dolphin therapy pioneer, inspired and confirmed Norbert Trompisch that he was on the right track. In the cooperation with Dr. Ludmilla Lukina (Dolphin Therapy Institute, Sevastopol. See photo left) Norbert Trompisch learned a lot in terms of the therapy craft, also the handling of the dolphins and benefited overall from her immense experience in dolphin therapy. In addition, Norbert Trompisch gained a lot of insight into how dolphin training works during this time. Prof. Thomas Slunecko (University of Vienna, Psychology) accompanied Norbert Trompisch in the theoretical foundation of Alpha Therapy as a thesis professor and valued friend.
Norbert Trompisch has supervised several research projects, dissertation and thesis projects in the field of dolphin therapy in the subjects of psychology, education and biology since 2005. He is the head of the dolphin therapy training programme at his own institute and was also a lecturer in the master's programme "Animal Assisted Therapy" at the University of Barcelona in 2013-2015. In addition, there have since been numerous teaching events and specialist lectures on dolphin therapy, such as at the Sigmund Freud University Vienna-Paris.
In 2015, the Dolphinswim travel agency was founded.
Since 2017, Norbert Trompisch has been conducting research at the Museum of Natural Sciences and Dolphinarium Constanza, Romania on the topic of "Dolphin therapy as behavioural enrichment for bottlenose dolphins in human care" as part of a 5-year long-term study on the effects of dolphin therapy on dolphin welfare. Within the framework of this study, Norbert Trompisch organised the complete set-up of the dolphin therapy programme, in particular the training of the dolphins as well as the training of the animal keepers for this special field of activity. The process was scientifically accompanied and documented.