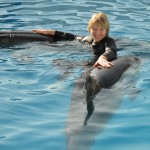 Since ancient times, dolphins have fascinated people, were considered friends or even worshipped as deities. Dolphins cast a spell on us, they whisk us away into their world and enable us to get to know ourselves better in a playful and creative way. The encounters with our dolphins are authentic, pleasurable and intense. Dolphin swims at DOLPHINSWIM can be for 1, 5,6,10 or more days depending on location and season. Our offers are aimed at those who are looking for the nature experience with dolphins as well as people who want to use the encounter with dolphins for their personal development.
Dolphins as a motor in personality development
The programme is designed to get to know the dolphins, to let them have an effect on us in order to get to know ourselves better in the process. The effect of the dolphins on people is very complex: they evoke euphoria and a love of life, they create a feeling of inner peace, connection and contentment. The experience with the dolphins is very personal, because they relate as intelligent social partners. The ultrasound they emit for orientation under water stimulates the human brain, making them a very special developmental companion for humans. In our dolphin personality development seminars we refer to these special abilities of the dolphins and offer the possibility to use them specifically for personal development projects. They are suitable for all age groups.